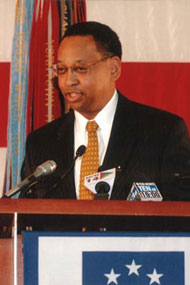 EDUCATION
J.D., University of Virginia Law School
B.A., Virginia Union University
Command and General Staff College (in-residence), U.S. Army
LL.M., The Judge Advocate General's School, U.S. Army (Masters in Military Law)
PROFESSIONAL ACTIVITIES
Commonwealth of Virginia Bar Association
Old Dominion Bar Association
National Bar Association
American Bar Association
ADMITTED TO PRACTICE
Commonwealth of Virginia
Supreme Court of the United States
United States Court of Appeals for the Armed Forces
United States Army Court of Criminal Appeals
United States Court of Federal Claims
PRIOR LEGAL EMPLOYMENT
Jordan Patrick & Cooley LLP, Partner
Patrick Henry LLP, Partner
Office of Assistant Secretary of the Army for Manpower and Reserve Affairs (counsel for Army Review Boards Agency and Army Board for Correction of Military Records)
Staff Judge Advocate (general counsel), Fort Leonard Wood, MO
Chief of Staff, Army's Insurance Company (personal injury and worldwide environmental claims)
Deputy Staff Judge Advocate, 25th Infantry Division (L)
Government Contracts Litigation Attorney, Department of the Army
Chief, Criminal Law, 2d Infantry Division (M), Korea  
Associate Professor and Director, Constitutional Law, United States Military Academy
Criminal appellate, criminal trial defense, and prosecuting attorney, United States Army
Howard G. Cooley
Of Counsel
National Security/Military Law; Litigation
Mr. Cooley, a retired Army colonel, believes in a strong America as evidenced by his many years of exemplary service in the U.S. Army, and as tempered by his family's tradition of service in the Civil War, WWI, WWII, the Korean War and the Vietnam War. Mr. Cooley practices national security and military law, as well as government contracts and personal injury law.
Passionate about the condition of our Service Members, Mr. Cooley has written to The President and Armed Services Committees regarding proposals to end sexual assault in the military, and has presented those matters through an appearance before The Judicial Proceedings Panel, which is directed by Congress to make anti-sexual assault recommendations. Not only has Mr. Cooley advised on proposed Congressional legislation, but his communications with the Secretary of Defense and the Secretary of Homeland Security for changes in Service Boards for Correction of Military Records have gained him national notoriety as chronicled by Fusion, an internet periodical, and interviews by Human Rights Watch, which views sexual assault in the military as a human rights issue.
Additionally, Mr. Cooley has been a guest on Law Talk With Ethel Mitchell, WOL-AM 1450; National Public Radio's News and Notes; public radio station WEAA (89.3 FM in Baltimore, MD); and, other many other radio programs. Several years ago, at the Milwaukee, WI, War Memorial Center, he delivered a speech celebrating the life of one of his clients, the late Private Booker Townsell, one of the 43 African-American defendants wrongfully prosecuted in the Army's largest trial during WWII. Also on the dais were the Assistant Secretary of the Army and Congressman McDermott of the State of Washington. Mr. Cooley was co-counsel on the nationally celebrated case of Chaplain Henry Vinson Plummer, the first African-American chaplain in the Army who was wrongfully discharged from the Army over one hundred years ago in the 1890s. Mr. Cooley's work was covered in a Public Broadcasting Service television documentary.
Mr. Cooley has also authored the homeland security management program of Anne Arundel Community College, MD, where he taught nine different courses, including national security law and business law.
His prior military assignments included serving as Chief of Staff of the Army's insurance company (Claims Service); a government contracts litigator for the Army; and, service as a prosecutor, criminal defense attorney and appellate attorney. Mr. Cooley has argued numerous appellate cases before the Court of Appeals for the Armed Forces and Army Court of Appeals. As one of the leaders in the field of government appeals, he co-authored an article cited as Cooley, Howard & Cooley, Bettye Scott, The Role of the Prosecutor in Government Appeals, The Army Lawyer, August 1986. As a former associate professor of law and director of constitutional law at the U.S. Military Academy, West Point, NY, Mr. Cooley was the editor of Constitutional Law Deskbook for the Cadet: Text, Cases and Problems, Law 301, Department of Law, USMA (1988-1989).
While on active duty, Mr. Cooley served as counsel for the Army Review Boards Agency and Army Board for Correction of Military Records (Office of the Assistant Secretary of the Army for Manpower and Reserve Affairs), a staff judge advocate, deputy staff judge advocate, chief of criminal justice, military criminal appellate attorney arguing cases before the highest military appellate criminal courts, criminal defense counsel, prosecutor, government contracts trial attorney, and director of constitutional law at West Point.