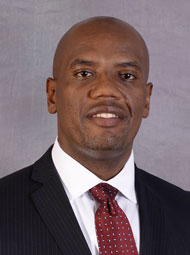 EDUCATION
L.L. M. Candidate, Georgetown University Law Center University, Institute of International Economic Law Fellow, Editor, Journal of International Economic Law (International Securities Specialty)
J.D., University of Miami School of Law

Dean's Honor Scholar
CLEO/Thurgood Marshall Fellow
Attended the London Summer Program, Summer 2002
Research Assistant for Professor Valdes
Volunteered with the Florida Immigrant Advocacy Center

B.A. Political Science, Morehouse College

Graduated Cum Laude
Awarded UNCF & Mercer Scholarship
Lead Resident Assistant
Senate Intern
Member, Omega Psi Phi Fraternity Incorporated
PROFESSIONAL ACTIVITIES
District of Columbia Bar Association
New York Bar Association
American Bar Association
National Bar Association
ADMITTED TO PRACTICE
District of Columbia
State of New York
PRIOR EMPLOYMENT
Guydon Love, LLP; Washington, DC
U.S. Securities and Exchange Commission; Miami, FL
University of Miami School of Law; Coral Gables, FL
Holland & Knight LLP; Miami, FL
Prudential Financial; Shelton, CT
ADDITIONAL INFORMATION
Fluent in French and Creole
Frantz Jacques
Of Counsel
Corporate; Securities; Real Estate
Mr. Jacques practice focuses on corporate and commercial transactions, with a particular emphasis on mergers and acquisitions, debt and equity financing, corporate governance, and securities regulation. He has advised clients in all aspects of the business lifecycle, from: business formation; capital formation; buying, selling and divesting assets; to executing exit strategies. Mr. Jacques provides value added legal counsel to a myriad of complex transactions. Mr. Jacques is an Institute of International Economic Law Fellow at the Georgetown University Law Center and is pursuing an LL.M. in Securities and Financial Regulation (expected Spring 2016). He is an Editor of the Journal of International Economic Law and serves as LL.M. Advisor to the Securities and Financial Law Organization at Georgetown Law.
REPRESENTATIVE TRANSACTIONS INCLUDE:
Formed a $ 500 million private equity fund.
Represented a large private real estate equity fund in drafting management and consulting agreements with an investment management company.
Assisted publicly-held and publicly-traded companies registered under the Securities Act of 1933 raise capital by selling additional shares through private placement transactions.
Represented a seller in a multi-million dollar leverage buyout.
Represented a distributor in the negotiation of multi-regional licensing rights agreements for newly patented communications and homeland security technology.
Assisted a telecommunications venture in entity formation by providing detailed analysis on the various business structures and jurisdictions available in order to maximize shareholder value and facilitate the investors' desired exit strategies.
Represented a lender in a debt consolidation transaction involving amendment and restatement of several secured credit facilities.
ADVANCE STUDY AND RESEARCH INCLUDES:
The implications of the Jumpstart Our Business Startups Act (JOBS) removal of the prohibitions on general solicitation or public advertising on Rule 506 offerings.
The behavioral effects on hedge funds and private equity funds under the Investment Company Act of 1940 subsequent to the JOBS Act.
The SEC's implementation of the rules mandated by the Dodd-Frank Wall Street Reform and Consumer Protection Act (Dodd-Frank).
The legal, policy and economic implications of Title I of Dodd-Frank as administered by the Federal Reserve Bank through the Financial Stability Oversight Council (FSOC). In particular, the enhanced prudential regulatory requirement of non-bank financial firms designated as systemically important financial institution (SIFI) and banks with more than $50 billion in assets.
The new regulatory framework of the financial derivatives market pursuant to Title VII of the Dodd-Frank Act.
The Federal Reserve Bank attempt to manage international financial risk through international institutions like the Financial Stability Board pursuant to the Basel III Accord. And the difficulty faced by Central bankers as globally interdependent financial systems and currencies create monetary risks that are outside the boundaries within which a central bank can function effectively.
The effectiveness of emerging and frontier markets in mitigating systemic risk and contagion while undergoing regional integration.