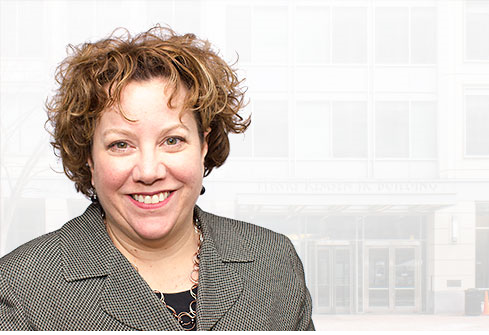 EDUCATION
J.D., Intellectual Property Track, George Mason School of Law, Fairfax, VA 1996
B.S. in Biochemical Engineering, Duke University, Durham, NC, May 1990
PROFESSIONAL ACTIVITIES
ADMITTED TO PRACTICE
Commonwealth of Virginia
United States Patent and Trademark Office
PRIOR LEGAL EMPLOYMENT
United States Patent and Trademark Office, Patent Examiner
University of Maryland, Office of Research and Development
International Trade Commission, Office of Unfair Import Investigations
ADDITIONAL INFORMATION
SELECTED PATENTS/PUBLISHED APPLICATIONS

5,874,066; Method and kit for treating tooth hypersensitivity
5,952,236; Enzyme Based Fluorescence Biosensor for Chemical Analysis.
5,962,645; Antiproliferative factor from patients with interstitial cystitis. 6,020,310; Method for Assisting in Differential Diagnosis and Treatment of Autistic Syndromes.
6,093,543; Method for Detecting the Presence of Malignant Cells Using Multi-Protein DNA Replication Complex.
6,110,898; DNA Vaccines for Eliciting a Mucosal Immune Response.
6,197,258; Photoluminescent sensors of chemical analytes.
6,204,004; Immunodiagnostic test for enterohemorrhagic Escherichia coli infection.
6,218,426; Non-Peptide GnRH Agents.
6,248,096; Male urinary incontinence device having expandable flutes.
6,316,603; Modifications of the VEGF receptor-2 protein and methods of use.
6,423,742; Compositions for reducing vascular plaque formation and methods of using same.
6,462,069; Compounds, pharmaceutical compositions, and methods for inhibiting protein kinases.
6,557,492; System for transporting and storing live fish.
6,562,864; Catechin Multimers as therapeutic drug delivery agents.
6,723,532; Negative Strand RNA Viral Vector Having Autonomous Replicating Capability.
6,955,660; Internal Expansion Syringe Adaptor.
6,971,995; Method for Splinting Rib Injuries.
7,004,918; Low Cost Orthosis for Toe Injuries.
7,048,746; Method and Instrument for Thermal Suture Cutting.
2006-0089638; Radio-frequency device for passivation of vascular plaque.
200-0078630; Method for the production of flavanoid containing compositions and use thereof.
2006-0040874; Process for the Preparation of Topiramate.
2005-0266566; Recombinant Sendai Virus.
2005-0234446; Electrosurgical device with Floating Potential electrode and Method of Using Same.
2005-0214393; Lipid Fraction of Nigella sativa L seeds.
2004-0053287; Reagents for Monitoring Nucleic Acid Amplification and Methods of Using Same.
WO 00/11217; Compounds and Methods for Enhancing delivery of Free Polynucleotide.
WO 01/59076; Premeiotic and Posmeiotic Origin of Teratomas: Isolated Teratoma Stem Cells for Therapeutic Uses.
WO 99/07723; Nucleic Acid Uptake and Release Vehicle.
WO 99/15162; Treatment and Prevention of Immunodeficiency Cirus Infection by Administration of Non-pyrogenic Derivatives of Lipid A.
WO 99/16469; Altered DNA Sythesome Components as Markers of Malignancy.
WO 99/18221; Method of Introducing and Expressing RNA in Animal Cells.
WO 99/36084; Vaccine Composition for Herpes Simplex Virus and Methods of Using Same.
WO 99/36087; Novel Vaccine Compositions for HSV.
Chalin A. Smith
Of Counsel
Intellectual Property Law
Ms. Smith has over twenty years of intellectual property experience, with a concentration in patent prosecution, licensing and opinion matters. She has worked with a broad range of chemical, biological and mechanical technologies, developing particular expertise in the fields of biotechnology, drug discovery and development, pharmaceuticals, and medical devices.
Ms. Smith's background includes a clerkship with the International Trade Commission Office of Unfair Import Investigations as well as seven years with the USPTO where she served as a Patent Examiner in the surgical and medical arts, acquiring a unique expertise in mechanical, chemical and bio-technical disciplines. Ms. Smith also served as chief patent counsel for the Office of Research and Development at the University of Maryland, Baltimore campus, where she advised faculty inventors from the Schools of Pharmacy, Medicine, and Dentistry, the Center for Vaccine Development and the Institute of Human Virology.
In addition to preparing and prosecuting domestic, international and foreign national patent applications, Ms. Smith has counseled start-up and small corporate clients on patent portfolio management and development, trademark, copyright and branding issues, licensing strategies, and infringement avoidance. She has negotiated, drafted and monitored the execution of contracts such as joint venture, license and research agreements for government agencies and private sector organizations.
Ms. Smith received her undergraduate degree in Biochemical Engineering from Duke University and her J.D. in the Intellectual Property Track from the George Mason School of Law. She is a member of the Virginia State Bar and is registered to practice before the U.S. Patent and Trademark Office.